Our services
Our activities are not limited to mere sales of products – we provide a wide range of auxiliary customer services.
Supplies and sales of plastic materials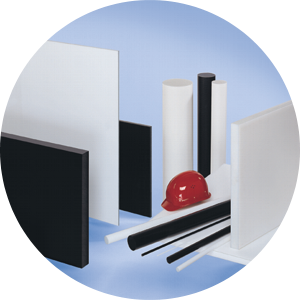 Do you need plastic sheets, rods, bars, profiles, welding wires, equipment to weld plastic materials or products? In his respect we can satisfy both the large and small buyers. We maintain inventory of more than 100,000 kg semi-finished plastic products made from more than 40 various materials. We have materials in our stock suitable for almost any application you may think of.
We guarantee high quality of the products and supplementary services, willing and individual customer care and favourable prices.
Technical guidance in plastics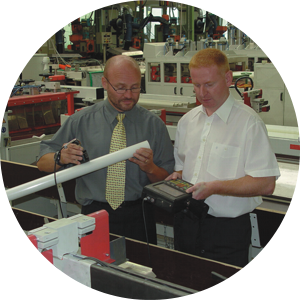 At a loss when selecting suitable type of plastic material for your application? Problem with identification of plastics to be used? Not happy with the properties of your plastics? You can contact our technical specialists who will be happy to provide fast and free advice! Our people are thoroughly trained experts with more than 20 years of experience in the plastics industry, processing of materials and their applications. Leave your worries to the best professionals there are!
Transport of goods around the Czech
Republic and abroad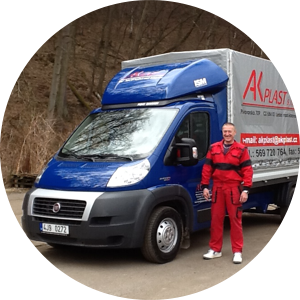 Lacking proper means of transport or time to pick up your ordered goods in our central warehouse in Ledeč nad Sázavou? We will arrange delivery of your goods directly to adress of your business anywhere in the Czech Republic and abroad, for a very favourable price. We operate our own fleet that ranges from small vans to large trucks. As regards single-piece shipments we cooperate with renowned and reliable local and international express delivery services. Thanks to our extensive inventories you can receive the ordered goods in most cases by the next day!
Precise forming and tailor made blanks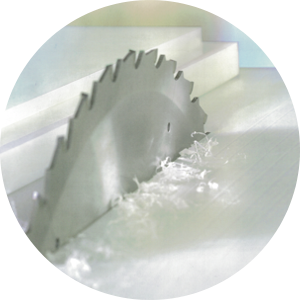 Standard dimensions of plastic sheets, rods and profiles not meeting your needs? Do you need to modify your ordered plastic sheet into smaller sizes, strips, bars, cubes, prisms or little plates? Do you need precise, tailor-made blanks? We will do the job for you, using our precise forming facilities. We have a number of modern professional sizing saws, e.g. large format vertical saws, circular and band saws, or hand-held circular saws. Machines are operated by experienced staff who guarantee delivery of blanks with minimum tolerances and maximum cut precision.
Format welding and cylinder rolling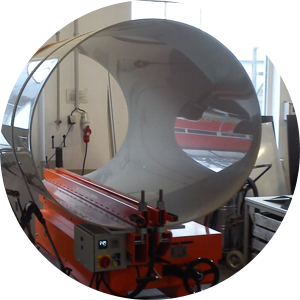 Need for an extra large sheets? Do you need plastic sheets rolled into cylinder shape to serve as pipeline or tank coating? We have professional butt welding machine of the renowned German brand HSK with working range of 2 m, where we are able to fulfil most of your requirements. The advanced butt welding technology guarantees solidity of the weld up to 100% equal to the basic material!
Custom made production of finished plastic parts and products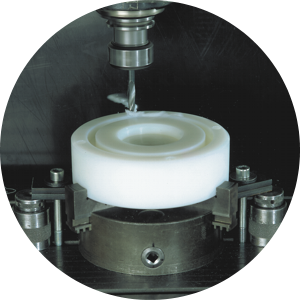 Do you need a finished part or another product to be made from our semi-finished plastics? No problem! We specialize in small series and single piece production of various machined, bent, welded or glued segments and products (machine parts, sliding bars and lines, end stops, drip trays, reservoirs, pits, design products etc.). We will produce everything you need fast and in top-notch quality, using the latest technologies of CNC machining, bending, milling, turning, folding, hot air and extrusion welding or gluing.
Assemblies of panels for railings,
terrace boards and WPC fences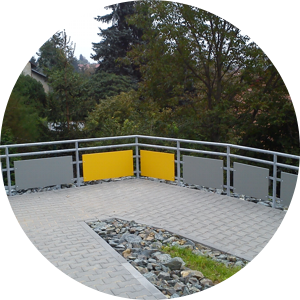 Are you interested in plastic panels for your railings and balconies? Would you like to have a maintenance-free terrace and fence made from wood-plastic composite (WPC)? Are you not sure you can handle the assembly, or reserve enough time for it?
We will help you! Our staff will deliver professional service when assembling these products. Attributes of our work: fast, efficient, high quality, clean. The result will serve you reliably and seamlessly for a long time to come. This service is provided only in the Czech Republic.